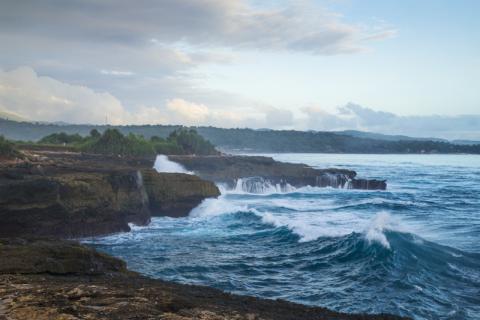 I had plans to visit the Gili Islands 40 minutes off of Bali by boat but was told by a local expat that Nusa Lembongan Island was better. So, I changed my plans and took a fastboat (only 20 mins) over to the island. The views from the boat were stunning. We arrived at sunset and the burnt orange color of the sun setting on the water took my breath away. Several of us stepped off the boat onto the sand and just stood there watching the beauty unfold.
This island wasn't like the rest of my trip in Bali. It was definitely a lot smaller area, simplier restuarants and a bit run down in areas. The villas were not quite as nice and you'd see a trash heep or smell it every so often along your walk to the beach. The beaches were pretty private, which was a bonus but the weather while I was there was crappy so I didn't really get the sun soaking in that I thought I would. But I changed my attitude, went for a walk and found the most stunning cliff views I think I've ever seen. This was Devil's Tear. There were no gates around this sheer drop, only a small sign that I think read, 'Caution.' I stood as far back as I could to get the shot and still be safe. The waves were crashing into the cliff with such a vengence you could feel it every time they hit. It was incredible.
The other people on the island were a bit young but I blended in the best I could (think Spring break). Saturday night was a full moon and because of that, they have a party to celebrate it's beauty and positive effect on their lives. I attended a gathering and ended up drinking the local beer and dancing to "Jump, Jump" with some of the locals on a tiny man-made dance floor on the sand. The DJ was ok. I couldn't help but wonder what they would think of how we party in Vegas. On this quiet, little island with only one beer choice, plastic chairs and only about two 'high end' hotels to choose from, it might just blow their minds how we do things. I was pretty happy in my flip flops, dancing to the full moon, not giving a crap what I looked like or danced like or who was watching. Thanks Nusa for a low key reminder of the simple things in life.