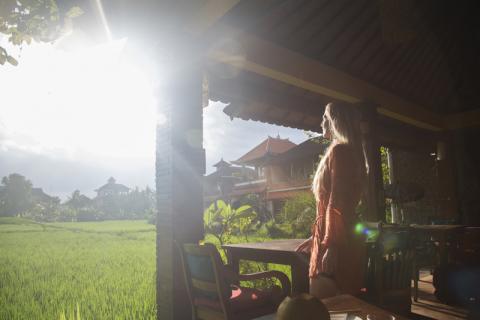 It's easier then you think to travel across the world to feed your soul. I did it, with a couple weeks of planning, not a ton of money and some courage. It was spurred by a conversation I had with a friend about a month prior to me booking Bali. I was searching hard to find an apartment. It seemed like the next step for me, since I'd had my possessions in storage for over a year since my break up. It was time to face the next phase of my life and find a place to live. Only problem was that every place I saw was a no, for one reason or another. I was frustrated. I complained to my friend that I didn't understand why I was hitting a wall with this next step and she simply said, "Maybe you're not supposed to get an apartment right now. Maybe you're supposed to do that travel you're always talking about."
Fear set in. My mind rejected the idea immediately because it seemed like bad timing, irresponsible, too expensive. Plus I had cats and I couldn't possibly trust their care to anyone else. I slept on it. The next day ideas to make it happen started flooding my mind. I could use airline miles for my ticket. I could stay in cheap Airbnb's. I could find a nice pet person to take my cats for a month. Oh my God, it all seemed like too much to ask the Universe, that all these details fall into place and I am able to fly off to a destination I've had on my Bucket List for years. But, if you don't ask, you don't get. So, I asked.
Since that day, all plans flowed easily. I found exactly the right person to love my kitties. I cleaned out my Amex points I'd been saving for a year and I booked the cheapest, yet cutest places I could find in Bali. Everything flowed easily, even while I was in Bali and it started to restore my faith. I think it's when we follow our hearts that we get rewarded. It's often easy to ignore how we feel and get caught up in life's responsibilities. My new rule since Bali is to ask myself how I FEEL about things, not what I THINK because when we overthink, we can get in trouble and stop the flow of our lives. I'm glad I leapt. The net appeared and it was oh so beautiful.